English pages of castle hotels in Germany
Castle hotels Bayern Bavaria


915-colm Castle Hotel Mid Franconia - near Rothenburg o. d. Tauber medieval, German Castles Road Burgenstrasse, near Romantic Road Romantische Strasse, Bavaria Bayern, South Germany. Leutershausen 7 km, freeway A7 exit Rothenburg 15 km, freeway A6 exit Aurach Leutershausen 15 km, train station Ansbach 16 km, Feuchtwangen 26 km, Dinkelsbuhl 37 km, Nuremberg Nurnberg airport 64 km, Ellwangen 68 km, Nordlingen 68 km, Wurzburg 80 km, Nuremberg Nurnberg airport 91 km, Bamberg 92 km, Heilbronn 115 km, Bayreuth 156 km, Stuttgart 157 km, Regensburg 171 km, Heidelberg 177 km, Stuttgart airport 183 km, Frankfurt Main airport 201 km

933-egge Castle palace hotel Altmuhltal high above Altmuhl river, Bavaria Germany Bayern Schloss Deutschland Lower Bavaria Niederbayern Riedenburg Dietfurt Beilngries Kelheim Altmuhl and Donau Danube rivers, Ingolstadt 46 km, Regensburg 55 km, Landshut 86 km, Nurnberg Nuremberg Nuremburg 95 km, Straubing 96 km, Donauworth 108 km, Munchen Munich 122 km (restaurant is closed on Sunday evening and on Mondays. In the summertime it's the best to stay in 933-egge castle palace hotel Altmuhltal with arrival Tuesday or Wednesday or Thursday and departure Friday morning, because many Fridays and Saturdays are fully booked in the main season)

945-eggb Schosshotel Donau in einem Erholungsort in der Nähe von Deggendorf zwischen Donau und Bayrischer Wald. Besichtigungen Rathausturm, Stadtpfarrkirche, diverse Museen und die Benediktinerabtei St. Michels / Metten. Hotel verfügt über Terrasse, Restaurant, Biergarten.
2 Baldachinzimmer in der Hochzeitsuite, Donau Hotel Hotels Kinder bis 5 Jahre im Zimmer der Eltern kostenlos
Castle hotels Baden-Wurttemberg

721-weit Castle hotel Neckar-Alb Neckar River valley, Black Forest Schwarzwald, Swabia, Baden Wurttemberg, South Germany, Starzach 5 km, train station Eutingen in the Gau, 6 km, ICE-Train Station Horb Neckar River Horb 11 km, Rottenburg (not Rothenburg!) 13 km, Haigerloch 14 km, Hechingen with Hohenzollern castle 27 km, Stuttgart airport 59 km, Villingen-Schwenningen 67 km, Baden-Baden 97 km, Titisee-Neustadt in the Black Forest 101 km, Strassburg Strasbourg airport 113 km, Friedrichshafen airport 153 km, Zurich airport 168 km


741-lehe castle palace hotel Kocher-Neckar Rivers Swabia Baden-Wurttemberg, South Germany, 445 years old Palace, Kocher river 80 m, near Neckar River valley 1 km, Railway station 2 km, Neckarsulm 5 km, Bad Wimpfen 6 km, Gundelsheim 11 km, Bad Rappenau 11 km, Heilbronn 12 km, Weinsberg 12 km, Burg Guttenberg 13 km, Hassmersheim 14 km, Munchen / Munich 304 km, Stuttgart airport 82 km, Black forest, Zürich airport 276 km


781-hors Castle hotel Black Forest Schwarzwald - near Freiburg, Baden-Wurttemberg, South west Germany, short vacation package sightseeings Gutach Tourism wood carvings Arrangement Children Overnight stay knight meal medieval feast family Villingen hotels romantic weekend Cuckoo Clock Clocks Bikers Meetings Wedding Park Villingen-Schwenningen 33 km, Offenburg 46 km, Freiburg im Breisgau 48 km, Titisee-Neustadt 50 km, Schaffhausen near the Rheinfall 86 km, Baden-Baden 95 km, Feldberg (highest rising in the Black Forest) 70 km, Strasbourg France airport 70 km, Stuttgart airport 110 km, Rothenburg ob der Tauber 267 km


886-joha Romantic hotel Lake Constance Bodensee Germany Überlingen map spa Radolfzell vacation package Friedrichshafen airport Meersburg wellness Baden-Wurttemberg Bregenz Lindau tip Switzerland sauna island Mainau Reichenau picture water guest rooms sport train station road car ferry.
Castle hotel Sachsen
Saxony


013-pill 4-star castle palace hotel Dresden Germany Elbe River, located in an excellent and peaceful location of Saxonys capital Dresden. It was a famous summer residence of the Saxon kings. Sachsen, Saxony, East Germany. Saxony hotel rooms suites hotels waterbed canopy bed fireplace restaurant lilac court room night café Orangery hotel seminar rooms package wedding reception party ceremony menu dinner suggestions menus party buffet suggestions buffets New Year's Eve trips vacation package sightseeing attractions historic sights.
Castle hotels Hessen Hesse


345-wald 4-star castle hotel Lake Edersee palace restaurant climatic spa restaurant, north Hessen Hesse, district Waldeck-Frankenberg, central Germany, Edertal about 7 km, Naumburg about 13 km, Bad Wildungen about 16 km, Korbach about 21 km, Fritzlar about 22 km, Bad Emstal about 22 km, Bad Arolsen about 28 km, Baunatal about 34 km, Homberg about 39 km, Kassel about 52 km, Schwalmstadt about 54 km, Dortmund airport 146 km, Frankfurt Main airport 174 km, Erfurt Bindersleben airport 196 km, Dusseldorf Düsseldorf airport 225 km, Hannover Hanover airport 226 km, Koln Cologne Bonn airport 237 km


372-wolf castle hotel Werra River valley with more than 50 stylishly outfitted hotel rooms and suites in the heart of Germany in the middle of the Werra River Valley near Eschwege (about 5 km) and Bad Sooden-Allendorf (about 19 km), south of Kassel (about 60 km) and northeast of Frankfurt (about 201 km)


657-kret Castle hotel Taunus near Wiesbaden on the Rhine river and Frankfurt on the Main river. In the castle 657-kret are the restaurant as well as 3 junior suites and and one single bedroom. All other hotel rooms from the castle hotel are in the annex. All hotel rooms have shower, toilet, hair dryer, mini bar, radio watch, satellite tv, W-LAN internet access, desk and phone, >partly with a desk and balcony. The using of the hotel own sauna is for hotel-guests free. 40 free parking lots for the hotel guests


653-jagd 4-star castle hotel Rhinegau / Rheingau - near Rhine River, Hesse Hessen. Germany Hesse hotels Rudesheim World Heritage Site hunting valley Niederwald monument Bingen short trips hiking Christmas trips Lorelei rock New Year's Eve Drosselgasse alley Assmannshausen Taunus road map short vacation wine menu restaurant sightseeing trips dance vineyards music wedding hiking families arrangement Assmannshausen 3 km, Rudesheim 5 km, Bingen (with car ferry)10 km, Frankfurt Main airport 56 km
Castle hotels Nordrhein-Westfalen Northrhine-Westphalia

532-rame Castle hotel Bonn Germany - near Rhine River, Northrhine Westphalia, Rhein, Nordrhein-Westfalen, West Germany. Cologne Koln North Rhine Westphalia Rhine River West Germany Meeting rooms day boat cruise road map airport train station. Rhine River shore 3 km, Bonn city center 7 km, Bonn-Bad Godesberg 7 km, Konigswinter 10 km, St. Augustin 10 km, Bad Honnef 13 km, Troisdorf 14 km, Siegburg 15 km, Bornheim 20 km, Dusseldorf airport 87 km, Dortmund airport 127 km, Frankfurt Main airport 149 km, Luxembourg airport 186 km.
Castle hotel Rheinland-Pfalz Rhineland-Palatinate


674-edes Castle hotel Palatinate near Rhine River and Heidelberg, Palatinate, Pfalz, South Wine Road, South west Germany, Edenkoben 2 km, Landau 9 km, Neustadt on the Wine Road 12 km, Speyer on the Rhine River 29 km, Alsace, France 32 km, Ludwigshafen 38 km, Mannheim 41 km, Karlsruhe 43 km, Kaiserslautern 51 km, Pirmasens 52 km, Heidelberg on the Neckar River 64 km, Stuttgart airport 80 km, Frankfurt Main airport 100 km
www.germany-travel.net | www.schlosshotel-deutschland.de | www.burghotel.de
Clickable map of Germany with yellow marked castle hotels: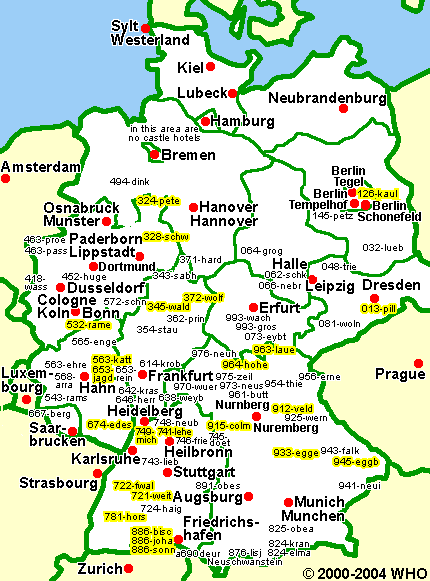 | | |
| --- | --- |
| Rhine River cruises to visit German wine festivals in 2024 and 2025 Rhine River Lights firework displays with half day round boat cruises A spectacular firework display during a boat trip in the Middle Rhine River Valley between Koblenz / Coblence, Lahnstein, Boppard, St. Goar, Loreley Rock, Oberwesel, Bacharach, Assmannshausen, Bingen and Rudesheim. The boat cruise with DJ music and dance on board is starting from different wine towns with wine hikings and wine festivals. | |
+
.